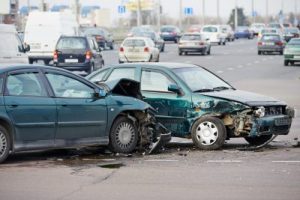 While there are risks associated with all car accidents, T bone collisions are especially dangerous. This type of accident, also known as a side impact collision, often results in serious injury. In some cases, an extreme impact can also result in death. If you suffered injuries in a T bone accident, then you may need to pursue compensation for damages. An experienced Houston car accident attorney can help you pursue your personal injury case.
What Happens in a T Bone Accident?
T bone car accidents are uniquely dangerous because of the angle of impact. In this type of accident, the angle of impact will make a distinct "T" shape when the front or rear of one vehicle makes contact with the side of another. This means that the only thing protecting one set of passengers from the impact is a thin door and window.
At the same time, side impact collisions regularly occur at intersections. It is often the case that one vehicle is trying to beat a red light and is traveling faster than the speed limit allows. Consequently, when an impact occurs, the speed of the vehicle will directly affect the force of the impact. This means T bone injuries are often severe, if not deadly.
Determining Fault in a T Bone Collision
If you were in a T bone collision and suffered injuries, then the other driver may be liable. However, a successful personal injury lawsuit will require that you prove the other driver was at fault.
Determining fault in a T bone accident depends in part upon who had the right of way at the time of the collision. If one vehicle ran a red light, for example, then this driver did not yield the right of way and caused the accident. However, it is not always the case that only one driver is at fault for a side impact collision. For example, in Texas, both drivers can share a portion of the blame. This means that even if the other driver was the primary cause of the accident, you may be partially liable as well. This is often the case when a driver is negligent in some way. For example, if you could have avoided the collision, but were engaged in distracted driving, then you may be partially liable.
Contact a Houston Car Accident Attorney to Discuss Your Legal Options After a T Bone Collision
A serious T bone collision may leave you with physical, emotional and financial burdens. The attorneys at Stevenson & Murray understand that securing compensation can alleviate these strains. To learn more about our services, schedule a free initial consultation with us today. You can reach us by phone at (866) 806-8538 or by filling out our online form.