Houston, TX Car Accident Attorney
Our Houston Auto Accident Attorneys Can Answer Your Questions

Every day we rely on motorists to maintain and follow the rules of the road. Even if you have done nothing wrong, you can find yourself involved in a motor vehicle collision, incurring thousands of dollars in property damage, or worse, being injured. No one chooses to be involved in a collision and, unfortunately, decisions and choices by other drivers have consequences that are sometimes fatal.
The National Highway Traffic Safety Administration (NHTSA) found that in one year, 32,999 people were killed on motorways, 3.9 million were injured, 24 million vehicles were damaged in crashes, and the economic impact of these crashes totaled $242 billion. While vehicles are easy to repair or replace, the damages to occupants can be much more serious. Losses in productivity, medical costs, legal and court costs, emergency services, insurance, and congestion all add to the cost figure. Statistically, the quality of life and the total value of societal harm have been estimated by the federal government to reach $836 billion.
Below, our Houston car accident lawyers explain what you should know if you are involved in a collision in Texas.
Helpful Tips if You Are Involved in an Auto Collision in Houston, TX
If you are involved in an automobile collision, you should do the following:
Immediately assess your injuries and your safety.
Check on the safety and well-being of any occupants.
Evaluate your surroundings and circumstances so you are not involved in a second collision.
Identify all parties who have been involved in the collision before they leave the scene.
Identify any eyewitnesses.
Utilize your mobile phone to take photographs and recordings of important statements made at the scene.
Notify the authorities so that beneficial investigation can be conducted.
Be sure that any injured parties obtain the necessary and proper medical care, including ambulance services as necessary.
Document property damage on each vehicle involved.
Document skid marks, tire marks, gouge marks and other physical indications of the impact.
Cooperate fully with law enforcement.
Exchange information with the other drivers and obtain identifying insurance information.
Seek medical attention, if appropriate.
Do not provide a statement to a private investigator/insurance adjustor, until you have a full appreciation of the facts.
Notify your insurance carrier so that he or she can conduct his or her own investigation.
Become aware of your legal rights and responsibilities in the circumstance.
While it may not be possible to perform all of these tasks immediately following an accident, the more you can accomplish at the outset of your claim, the more likely you are to secure an appropriate recovery. Therefore, once you have addressed medical needs and other immediate issues caused by the accident, you should reach out to an experienced Houston auto accident attorney as soon as possible.
You may have the right to file an auto insurance claim and a civil personal injury claim in response to your accident. The sooner you secure legal counsel, the easier it will be for you to navigate these processes successfully. The right Houston car accident lawyer working on your case can significantly improve your chances of success with your claim and increase the total recovery you obtain for your damages.
Types of Car Accidents in Texas
There are many different types of car accidents, but no two collisions are exactly alike. However, there are some overlapping factors that contribute to them. Some of the most common accidents that result in filing a claim are:
Drowsy driving accidents. When someone is overly tired and not able to stay awake while driving, it can cause serious accidents. Generally, someone who falls asleep at the wheel will be responsible for any accidents. Consider, too, that if the accident involves a commercial vehicle, the driver's employer may be at fault, too.
Drunk driving accidents. Drunk driving accidents are very serious and cause catastrophic injuries daily. Generally, if someone is driving while intoxicated, they will face criminal charges, but fault for an accident may become complicated if they can prove you were somehow to blame for the collision. Dram laws may also factor into a DUI case, where the restaurant or bar is held accountable for letting an intoxicated driver on the road.
Railroad accidents. These accidents are almost always catastrophic. Improperly working railroad crossings, cars being trapped, and motor vehicle problems that caused the car to stall on the railroad are all elements in railroad accidents. However, faulty equipment, inadequate training for railroad drivers, and other elements can cause these cases to become much more complicated than it seems at first glance.
Rear-end accidents. Rear-end accidents are the most common type of car accident. These can range from minor to serious, and so can the injuries that are involved. There is no average settlement for these types of accidents, and the reason for the fault can vary widely. Though common wisdom suggests that the person who rear-ended another car is always at fault, this is not the case. Many situations result in the person who rear-ended another being the victim in an accident claim.
Speeding accidents. These accidents often result in injury. Speed limits are posted to protect all drivers on the road; those who ignore those limits aren't just endangering themselves but other drivers and, in some cases, pedestrians.
Lyft and Uber accidents. The law is just now catching up to this complicated gig economy, and nowhere is that more apparent than in car accidents involving Lyft and Uber. Some of the most common claims amongst Lyft and Uber accidents are the driver was distracted, the driver was texting while driving, the driver was speeding, the driver fell asleep at the wheel, or the driver was driving under the influence. The right attorney can help you discern whether this is an issue against an individual driver or if there are more complexities to consider.
Hit-and-run accidents. These are some of the most egregious accidents on highways, and anyone who flees an accident scene should bear responsibility for subsequent injuries. If you've been involved in a hit and run accident, you may still be able to collect fair compensation for your injuries. Contact our firm to learn more.
Texting and driving accidents. Distracted drivers, especially those on their phone, can cause serious accidents. This simple act is both a mental and physical distraction that could cause devastating injury when done while driving.
Taxi accidents. Taxi accidents are similar to Lyft and Uber accidents but involve different kinds of negligence laws. Though Texas law still classifies taxi drivers as independent contractors, some factors are different from Uber and Lyft when it comes to accidents.
How to Read Your Accident Report
If you have been in an accident, you will need to obtain the car accident report as soon as possible, as insurance companies need it to move forward with your claim. It's important for you to know what the officer in charge of the investigation said, especially if you were injured or sustained property damage during the accident. If, for some reason, you aren't given the report, you can order one from the Texas Department of Transportation.
An accident report is generally four pages in length. The first page of the report will include the location, date, and time of the accident. It will clarify if the accident took place in a construction zone or at an intersection. There will be information about the driver, passenger, vehicle, and any bystanders involved in the crash. If any person sustained an injury during the crash, there will be a box to discuss what injury was sustained and to what extent.
On the second page, there will be a crash narrative and a pictorial diagram of the scene. There will also be a list of charges, if any, that can be filed against the driver, passenger, or pedestrian. The officer's opinion of what happened and the events leading up to the crash will also be written on this page. If any injuries were sustained, information about where they were taken and how they were transported, along with the date and time if anyone died during or within 30 days after the crash will be here.
Page three will discuss any commercial vehicles that may have been involved in the accident. If a commercial vehicle was involved, the information of the driver, type of vehicle, and more will be listed on this page.
The fourth page will contain terminology and codes referenced in the report. This page can be difficult to understand, and your lawyer will be able to explain it to you in further detail.
When You Should Hire a Houston Car Accident Attorney
When you've been involved in an accident and have experienced some sort of personal injury, it can be challenging to get what you deserve. This is especially true if you try to fight the claim on your own. Here are times when you need to hire a Houston car accident lawyer:
Severe injuries and need recovery time. Extensive medical care is expensive. Whether it's a long stay in the hospital, physical therapy, or rehabilitation therapy, these bills quickly add up. If you are experiencing any of these, you are likely also missing time from work and could be looking at lost wages. Having a car accident lawyer can ensure you receive money to pay for these bills and make up for your missed work compensation.
Insurance companies are involved. Since Texas has fault-based insurance laws, people can file a claim to recover benefits from the at-fault driver's insurance company. If the person you are filing a claim against happens to be uninsured, you can seek money from your own insurance company. However, insurance companies are in the market to make money and will try and lessen a settlement amount to avoid a larger payout. They often achieve this by denying a claim without reviewing it, offering a substantially lower settlement, and using manipulation tactics such as playing on emotions and stress.
You're the one being blamed for the accident. If you are being blamed for an automobile accident, it's time to hire a lawyer. Even if it's not your fault, you may be getting the blame put fully on you, or insurance companies and other lawyers may be trying to put shared blame on you to lessen a settlement. If either of these is happening, give a car accident lawyer a call.
Value of your case is contested. It can be hard to get insurance companies to put the same value on your damages as you do. They use programs to calculate the damages listed in your claim to come up with the least amount of money to give, whereas lawyers will speak with specialists to identify damages and figure out costs.
Having trouble getting a fair settlement cost. Most settlements are taken care of privately. Insurance companies will not offer more money if they do not think you will demand it. When you have a lawyer present, insurance companies know that they cannot take advantage of your situation and will be more inclined to offer a fair settlement.
Average Settlement for Car Accidents in Texas
Every claim and case is different, especially when it comes to car accidents. The amount of settlement a person will receive depends on the type of crash, who was involved, and much more. However, in general, a person who hires a lawyer has a greater chance of obtaining a higher settlement payout than a person who represents himself.
If you are filing a claim, you should aim for complete coverage of your medical bills, along with fair financial support for you and your family. In the state of Texas, you are eligible to receive compensation equal to the value of damages that occurred during the accident. Examples of compensation that you may be able to recover because of an accident include medical bills, physical therapy, rehabilitative care, lost wages, long-term disability, pain and suffering, emotional distress, disfigurement, and wrongful death of a family member.
It's important that if you are trying to get compensation, that you provide thorough documentation of the evidence. If you fail to do this, there is a strong chance you will not receive any money, and if you do, it will be very little. Examples of documentation include pictures, dashcam footage, witness statements and testimonies, bills, vehicle debris, and wreckage.
You should note that Texas is a comparative negligence state, meaning that if two or more parties are found guilty of sharing the fault of an accident, this will reduce the value of each party's settlement. For example, if a plaintiff in a car accident case is found to be 25% at fault for causing the accident in question, they would lose 25% of their case award to reflect this comparative fault.
Your Houston car accident attorney can play a crucial role in obtaining the evidence necessary for establishing a defendant's liability for an accident. They can also help counteract any claims of comparative negligence made against you. Depending on the total value of your damages, even a tiny percentage of comparative fault can make a sizeable dent in your case award. Legal counsel with the right experience can assist you in managing any such issues that arise during your case proceedings.
Our Experiences Working With Houston Insurance Companies
Time and time again we have investigated motor vehicle accidents on behalf of our clients to determine responsibility and legal liability. Often our clients are contacted by insurance adjusters working for the other driver and are requested to give a statement. Many of these adjustors use certain techniques in an effort to transfer legal liability from their driver to some other driver or to the victim. For example, an insurance adjuster once asked a client sitting at a red light what she did to avoid being hit from behind by a front-end loader.
This question is ridiculous and indicates a desire to suggest some responsibility upon a driver sitting at a red light. Our clients have been asked to give statements about the harms and losses they have experienced while they are still in the hospital mending from broken bones or surgery, and in some cases while they are still under pain medication. It is impossible to know the extent or level of injuries experienced until they have had an opportunity to recover. Some injuries are not immediately apparent.
One of our clients sustained a neck injury, and she believed it only involved the soft tissue. Unfortunately, her symptoms progressed and worsened over time. Her neurosurgeon recommended an MRI where it was determined she had a herniated disc in her neck. She underwent two significant cervical fusion surgeries and was required to use a medical device to disrupt her chronic pain. These injuries were not immediately apparent at the site of the collision nor in the days immediately following. We use investigative techniques that help even the playing field.
Insurance carriers use a battalion of adjusters, investigators, lawyers and other individuals in an effort to minimize and dilute the legal responsibilities of their insured drivers so the insurance companies pay out less in claims. People who have learned all their lives to live honestly, ethically and with integrity are often confused by the denials, baseless allegations and suggestion that victims of a car accident are "faking," malingering or exaggerating their injuries. You should consider retaining legal counsel to advise you of your legal rights, to investigate the circumstances of your accident and advise you in how to move forward.
Also, be aware that statements you make can often be taken out of context, misinterpreted and used against you at a later time. You should speak to a qualified attorney who can assist you and represent your interests. At Stevenson & Murray, we have decades of experience handling significant injuries that arise from motor vehicle collisions. We have the resources and relationships with private investigators, experts, accident reconstruction experts, medical treaters and others to facilitate and protect your rights.
Many times, we are retained after individuals attempt to negotiate directly with an insurance carrier only to realize their efforts have been severely prejudiced and not likely to end in a favorable or appropriate result. For this reason, you are encouraged to consider retaining counsel for your legal matter.
Distracted Driving
We have recently noticed a spike in distracted driving. Many things can cause distractions to a driver. Automobiles and trucks are loaded with creature comforts—radios, satellite radios, Bluetooth accessories, mobile phone connections and computer connections—allowing drivers to email, text or engage in other activities besides driving. When driving becomes a secondary issue, the attention parameter of the driver is severely compromised. Studies show distracted driving is every bit as threatening as driving while intoxicated.
There are also other circumstances bearing investigation, including fatigue, intoxication, impairment, mechanical failures, failure of safety equipment, faulty evasive actions, excessive speed, failure to keep a proper lookout, failure to maintain a single lane of traffic, failure to yield the right-of-way and failure to follow the rules of the road. Innocent people can be maimed or killed as a result of drivers who fail to follow the rules of the road. We are happy to consult with you at no cost to determine whether you have a claim. We will advise you as to your legal rights and the best manner to move forward. We believe people should be treated fairly, especially when they have suffered injury and harm due to the negligence of another.
In our investigation, we often review driving records, driver logs, employment relationships and mobile phone usage to give our clients solid information upon which to rely. Be careful of the one-way street of providing information to the other party. You will often find there is a tremendous amount of information sought by an investigating adjuster on behalf of the insurance carrier for the offending party. They seek information concerning your private medical records, information about your harms and losses, and your recovery.
However, they rarely provide information to you with respect to the party who caused the incident. Insurance companies are reluctant to release information concerning the amount of coverage available or witness statements. These statements are available if you are involved in a lawsuit, and the reality is that you will not be treated fairly and you could severely jeopardize your claim if you fail to become educated about your legal rights.
What to Do If Someone Is Suing You
If you happen to get into a situation where you are being sued, the first thing you need to do is turn it into your liability insurance carrier. You then need to request that they provide you with defense. It is written in your contract that they do so. However, oftentimes they may not provide the strongest lawyer, and you may need to seek an attorney of your choice. If you are uninsured at the time of the accident, you will have to find your own lawyer and pay out-of-pocket. In any case, it is not recommended that you defend yourself.
Auto Crashes Cases in Houston, TX
Car accidents happen for many reasons throughout Texas every day. While some of these incidents happen for completely unpredictable reasons, others occur due to negligence and intentional misconduct behind the wheel. Texas is a fault state for car accidents, meaning a driver responsible for causing a car accident is liable for all resulting damages. If you believe another driver is responsible for causing your recent auto accident in the Houston area, it's natural to have lots of legal questions about holding them accountable and securing compensation for your damages.
Legal Counsel for Houston, TX, Car Accident Cases
While it may be possible to resolve minor car accidents without legal counsel, any accident resulting in injuries and substantial economic losses requires the attention of a Houston auto accident attorney. In addition, victims of auto accidents typically face very difficult recovery processes, often requiring insurance claims and protracted civil court proceedings against the drivers responsible for causing these incidents. Therefore, you should not attempt to handle these complex legal matters unassisted, especially if you are recovering from painful and disabling injuries.
Stevenson & Murray can provide the legal counsel you need after experiencing a traumatic and damaging auto accident in the Houston, TX, area. You could be facing expensive medical bills, economic uncertainty from missed time at work, and various other damages. You may not be able to rely solely on an insurance claim to recover. Our team will help you determine the full scope of damages you can seek from the at-fault driver and guide you through your case proceedings with confidence.
Why You Need Legal Representation
Texas' fault rule for car accidents requires determining liability for these incidents before any compensation can be awarded. Texas law also requires all drivers to have auto insurance that meets the state's minimum coverage requirements. Therefore, if another driver causes an accident with your vehicle, you can file a claim against their insurance to seek compensation for your losses. However, dealing with insurance carriers can be very challenging, and even a successful claim may not fully cover your damages.
Working with an experienced Houston auto accident lawyer offers the best chance of obtaining a full recovery from your losses. When you choose Stevenson & Murray to represent you, we will carefully review the details of your recent accident, guide you through the insurance claim process, and help you determine whether further legal action against the at-fault driver is necessary. Our goal is to maximize your recovery to the fullest extent possible under Texas law. Instead of putting additional stress on yourself after an accident by trying to handle it alone, have your lawyer represent you and increase your chances of maximizing your total recovery.
Common Causes of Car Accident Claims in Texas
If another driver is responsible for causing your recent accident in the Houston area, you need to prove their liability to hold them accountable for your losses. Some of the most commonly reported causes of accidents that lead to personal injury claims in Houston include:
Distracted driving, which is responsible for most auto accidents that occur in the US each year. A few seconds of distracted driving can be enough to cause a devastating accident.
Driving under the influence (DUI). Any driver who operates a vehicle while intoxicated by drugs or alcohol violates Texas law, and if they cause an accident, they are responsible for the victim's damages. DUI violations will also lead to criminal prosecution, and DUI accidents resulting in injuries often lead to harsher sentencing.
Moving violations, such as running red lights, performing illegal turns, and failure to yield the rightofway where necessary. These actions disrupt the flow of traffic and can startle nearby drivers.
It is hazardous for drivers to exceed posted speed limits. When speeding results in a collision, the incident will likely result in catastrophic or even fatal injuries.
Vehicle malfunctions. If a defective vehicle or vehicle part causes an accident, the manufacturer could face liability for the damages under Texas' product liability laws.
It can be challenging to ascertain fault for a car accident immediately after it occurs, and it's possible for more than one party to bear fault for your recent crash. If you are unsure how to proceed with seeking compensation for your damages after an accident you did not cause, it's vital to consult an experienced Houston auto accident lawyer as soon as possible.
What to Expect From Your Houston Auto Accident Attorney
When you choose Stevenson & Murray to represent you after a car crash in the Houston, TX, area, we will review the evidence from the accident scene, the police report, and your own recollection of the event to determine the best strategy for obtaining your compensation. Insurance is generally the first recovery option after a car accident in Texas. We will help you draft a demand letter to the other driver's insurance carrier, seeking the total amount of compensation available under the terms of their policy.
If the at-fault driver's insurance cannot fully cover your losses, we will help you build a civil claim against the at-fault driver. This claim can potentially allow you to recover any damages that insurance doesn't cover. For example, their insurance may only cover a portion of your total medical expenses for a severe injury, and you can't expect pain and suffering compensation from insurance. Your car accident claim can potentially allow you to recover compensation for all economic damages resulting from your car accident. Texas state law allows you to seek compensation for your pain and suffering.
Our team routinely assists Houston, TX, area clients with their complex car accident cases. We understand the stress, anxiety, and pain that can follow a damaging accident someone else caused, and you may not know the best strategy for holding the at-fault driver accountable. Stevenson & Murray can offer the comprehensive legal representation you need to approach your impending car accident recovery process with greater confidence and peace of mind. If you are ready to discuss your legal options with a Houston auto accident attorney, contact us today and schedule a consultation with our team.
FAQs About Car Accidents in Houston, TX
Our Houston Car Accident Attorneys Answer Your Questions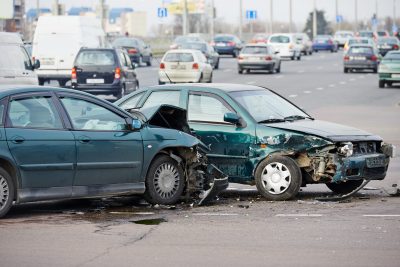 Car accidents kill an estimated 32,000 U.S. drivers each year. Another three million suffer injuries from car accidents. Accident survivors may also suffer permanent injuries after a collision. Some injuries may keep survivors from working ever again. For a 25-year-old car accident survivor with tetraplegia, he or she may suffer well over $5 million in just economic damages over a lifetime. Additionally, the law permits other damages in addition to economic losses like pain & suffering, mental anguish, physical impairment and disfigurement. You should know your rights under the law.
If you or someone close to you suffered an injury during an accident that disrupted your life, then you should consider your legal options. Depending on the circumstances of your accident, you may be able to recover substantial money damages for compensation for your injuries. It is important to know what to do after a car wreck. Your actions following a crash can affect your claim and your ability to prevail if a lawsuit is necessary.
Our Houston car accident attorneys have extensive experience with car accident lawsuits. We can help you determine if you are eligible for compensation during a free consultation. For more information on Texas car accident laws and lawsuit eligibility, read our frequently asked questions section below.
Do I Need a Car Accident Attorney in Houston, TX?
There are multiple reasons why you should consider hiring a car accident attorney after a wreck. Perhaps the most important is that an attorney can help you understand your rights, how the law affects your claim and how to successfully negotiate a settlement.
Additionally, a car accident attorney can protect evidence that may be vital to your case and may even uncover new evidence. Accident attorneys also know Texas state laws and can help you avoid common post-accident mistakes, like speaking to the other party's insurance adjuster or providing a statement before knowing your rights.
How Do You Pay Your Houston Car Accident Attorney?
At Stevenson & Murray, we do not send you a bill for every hour of time worked on your case. Our attorneys will take your case on a contingency fee basis. This means that you do not owe attorneys' fees unless we successfully recover compensation from a settlement or verdict. Contingency fees allow our car accident attorneys to help people from all walks of life. Here at Stevenson & Murray, we strongly believe that justice should be available to everyone.
With a contingency fee agreement, there will not be any upfront costs for your legal representation from our firm. Additionally, there is no legal fee if we fail to secure a recovery on your behalf. Once we win your case, our fee will be a predetermined percentage of your final case award. This ensures there are no surprises when it comes to your legal costs and that you are sure to receive appropriate compensation for your damages.
What If the Other Motorist Had Inadequate or No Insurance?
In some cases, car accidents may involve a driver who has inadequate or no liability insurance. Your insurance policy may have UM/UIM coverage, which may kick in if you were involved in an accident with an underinsured or uninsured driver. UM/UIM coverage is extremely important. Make sure you consider this coverage on your policy. Although Texas insurance companies must offer you this coverage, you can opt out in writing. Additional coverages often mean a higher premium.
What Should I Do After a Car Accident?
What you do after a serious car accident can affect the value of your claim or ability to sue for damages. First and most important of all, get medical attention even if you just need to be medically evaluated. Some injuries are not immediately apparent.
Certain types of injuries may materialize after several hours or even days. Delayed car accident injuries, like internal bleeding, may be fatal if left untreated. Medical treatment may also establish a record of your injuries, which can help if you file a claim or lawsuit.
If you are able to do so without putting your safety at risk, then you should attempt to take photos of the damage to your vehicle, or injuries you or other passengers suffered. Be sure to gather contact information from witnesses and call the police from a safe location. Take photos of the location and the vehicles involved.
There could be additional steps after an accident, some of which are required by law. An attorney can help walk you through what you should do next.
What Should I Not Do After a Car Accident in Texas?
You should never speak to the other party's insurance adjuster after an accident unless you are fully aware of your rights. Insurance companies are in business to make money. Adjusters will find ways to reduce the value of your claim. Let your attorney answer any questions you might have regarding this event.
Avoid these other common post-accident mistakes:
Forgetting to call police. Texas state law requires drivers to notify the police of accidents resulting in injuries, significant property damage, or death. Failure to do so could qualify as a hit-and-run and violation of other Texas statutes. If you are unsure whether you should report a collision, it is typically best to err on the side of caution and notify the police.
Admitting fault to the other driver or witnesses. Even saying something as seemingly harmless as "I'm sorry" could be construed as admitting fault. Be careful of your word choice when speaking with others following your accident, including the police. Answer their questions honestly, concisely, and politely, but do not say anything they may misconstrue as an admission of fault.
Leaving the scene of the accident. Like the failure to report an accident to the police, this could potentially amount to a hit-and-run offense. If you are not transported by ambulance for severe injuries, remain at the scene of your car accident until the responding police officers allow you to leave.
Getting into an argument with the other driver or drivers. Photographs from the scene of the crash and testimony from eyewitnesses are some of the most important facts you can obtain that will help you establish liability for your accident. Getting into an altercation with the others involved in the crash will do nothing to help your recovery effort. Be as polite as possible when speaking with the others involved in the crash, even if they seem hostile. Document as much as possible while you wait for the police to arrive and refrain from any hostility.
Accepting the first settlement offer. You could face expensive medical bills and other significant economic strains after an accident, but do not allow desperation to compel you to sacrifice your ability to recover appropriate compensation. Many insurance companies will attempt to pressure claimants into accepting lowball settlement offers, and an at-fault driver may also propose a speedy resolution. Do not accept any settlement offers until you have had an experienced Houston car accident lawyer review the details of your case.
Failing to check on other drivers or passengers. You should do your best to identify any severe injuries among those involved in the crash. These victims may need immediate life-saving medical attention. If you can check on them but fail to do so, you could potentially be held liable for their resulting damages even if you did not cause the accident.
Talking about your accident on social media. Most Houston car accident attorneys will strongly advise avoiding posting on social media after a car accident or while involved in any other civil lawsuit. Anything you post on social media is publicly accessible, and even seemingly harmless posts can potentially influence the outcome of your civil case. For example, the defense may attempt to argue that a recent post contradicts your accounting of the severity of your injuries.
Failing to identify helpful witnesses to the wreck. Once you have checked yourself and your passengers for injuries, you should check on the others involved. If any other drivers who were not involved in the crash stop to help, make sure you get their contact information in case they can help you with their accounting of the incident.
These mistakes can influence the total recovery you secure after your accident. This is one of the most important reasons to hire reliable legal counsel following a car accident in Houston. The sooner you secure legal representation, the sooner your team of attorneys can begin working on your case and helping you establish liability for your damages.
Can I File a Car Accident Lawsuit?
It may be necessary to file a lawsuit against the other driver or drivers. Most lawsuits settle before going to trial.
You must file a lawsuit within the statute of limitations. In Texas, the statute of limitations for personal injury lawsuits, including car accidents, is generally two years from the date of the accident.
For a wrongful death claim, the statute of limitations is two years from the date of the death. Lawsuits against public entities have different rules. Our attorneys can help you determine whether you have options to file a lawsuit against a public entity.
Insurance is typically the first phase of securing compensation for a car accident. However, the at-fault driver's insurance policy may only cover a portion of your total losses, and you may need assistance calculating the full scope of those losses. Securing legal counsel from an experienced Houston car accident attorney as soon as possible after your crash will ensure you meet the statute of limitations if you need to file a personal injury claim.
Can I Recover Compensation in a Car Accident Lawsuit?
The amount of compensation you can recover depends on your damages and degree of fault. Compensation can help pay for damages that include lost income, loss of future earnings, home modifications, medical bills, transportation expenses, physical impairment, disfigurement and pain and suffering.
How much compensation you can recover depends on the circumstances. Texas is a modified comparative fault state. You may not be able to receive compensation, or you may receive reduced compensation for sharing fault for the accident. Your Houston car accident lawyer can help you secure the evidence you may need to nullify accusations of comparative fault made against you, helping you preserve your case award.
Can I Claim Pain and Suffering Damages in a Car Accident Lawsuit?
Texas state law acknowledges that while every personal injury plaintiff has the right to seek full compensation for their economic damages, the experience of a personal injury is worthy of compensation as well. Therefore, it's possible to recover monetary compensation for physical pain, psychological trauma, and emotional distress caused by a defendant's actions. In Texas, there is no cap or limit on the amount you may claim in pain and suffering damages, but the amount claimed must be proportionate to the severity of your experience.
It may sound difficult to assign a monetary value to something like physical pain or psychological distress, but your Houston auto accident attorney will assist you in determining a fair amount based on the seriousness of your damages. For example, when a plaintiff is likely to make a full recovery within a relatively short time, their attorney might request compensation based on a per diem arrangement awarding a set amount of money for every day it takes to reach maximum medical improvement from their injury. Alternatively, attorneys may use a multiplier method if a plaintiff's condition is more serious.
If your car accident resulted in any permanent harm, your attorney is more likely to seek a large lump sum in pain and suffering compensation. Your attorney may multiply your total claimed economic damages by a factor of one to five, depending on the nature of your injuries. For example, if you suffered $500,000 in economic damages and incurred a permanent disability from the injuries a defendant caused, your attorney may seek five times this amount or more to reflect the significance of the defendant's impact on your life.
What Do I Do If My Accident Happened While Working?
If you suffer a car accident while driving for work, you could potentially have the right to file a workers' compensation claim before proceeding with a civil lawsuit against the at-fault driver. However, not every employer in Texas carries workers' compensation insurance, and the claim process can be very challenging even if the fault for your injury is clear. Therefore, it will be necessary to work with an attorney experienced with personal injury claims and workers' compensation cases to succeed with this type of civil action.
Workers' compensation can potentially cover your medical expenses and provide disability benefits while you recover. In addition, a third-party personal injury claim against the driver who hit you could allow you to secure compensation for your remaining damages.
Can an At-Fault Driver Go to Jail for Causing an Accident?
If the defendant responsible for your accident caused the accident due to drunk driving, excessive speeding, or any other violation of Texas' Penal Code, they could face criminal prosecution from the state in addition to your civil action. The judge handling their criminal case could include restitution to you as an element of their sentence. Alternatively, the judge handling your civil case could award punitive damages to punish a defendant's egregious negligence in causing your accident.
How Does an Auto Insurance Claim Work?
Texas' fault rule for car accidents means that you have the right to file a claim against an at-fault driver's auto insurance policy after an accident. In Texas, the state's minimum coverage requirements for auto insurance include:
$30,000 or more in bodily injury liability coverage for a single person. This coverage applies when the policyholder causes an accident and injures the other driver.
$60,000 or more in total accident liability coverage for bodily injuries. This coverage applies when the policyholder causes an accident that injures multiple people in the other vehicle.
$25,000 or more in property damage liability protection. This will compensate the other driver for the cost of repairing or replacing their vehicle, usually up to the total of the actual cash value of the vehicle.
These coverage amounts might sound generous, but a serious accident can easily result in damages that quickly eclipse the total scope of the at-fault driver's insurance coverage. Texas also does not require underinsured/uninsured motorist coverage, but this type of coverage could allow you to secure some compensation from your insurance carrier if another uninsured or underinsured driver causes an accident. Again, this may not be enough to fully compensate for your losses, but it can be a valuable initial source of compensation immediately following an accident.
Once you obtain the at-fault driver's contact information and insurance details, you can file a claim for coverage against their policy. You must submit a demand letter to the insurer detailing their policyholder's liability for your damages and a complete accounting of those damages. It's a good idea to have an experienced Houston car accident lawyer help you with your demand letter. Once the insurer notices that you have legal counsel advising you, they will be more inclined to process your claim efficiently and in good faith.
Typically, you must notify an insurance company within a few days of the accident that you intend to file a claim for coverage. You will also need to notify your own insurance company of your accident per the terms of your policy. Failure to do so, even if you did not cause the accident, could result in your insurer holding you responsible for breaching the terms of your policy. Remember that you must notify the insurer of your intent to file a claim, but do not allow them to pressure you into speaking about your claim right away. Instead, tell the insurance company that your attorney will be in touch with them shortly about your claim. Do not accept any settlement offers until an experienced Houston car accident attorney has the chance to review your case.
How Do I File a Personal Injury Claim in Texas?
After you have consulted with an attorney and handled the immediate aftermath of your car accident, you should be able to secure an insurance claim settlement within a few weeks of the incident. At this point, your Houston car accident lawyer can help you determine whether you have grounds for further legal action against the driver who caused your accident. If your insurance claim payout did not fully cover your losses, your attorney would help you draft a complaint against the at-fault driver that you will then file with the Houston civil court.
After the court receives your complaint, they will formally serve papers to the defendant named in your complaint, and the defendant has the opportunity to file a response. At this point, your case is likely to proceed to settlement negotiations with the at-fault driver. Most personal injury claims filed in Texas end in settlement negotiations between the parties involved.
During settlement negotiation, the defendant attempts to settle the case for as little as possible while the plaintiff strives to maximize their compensation. When the plaintiff can provide unmistakable proof of the full extent of their economic damages, it will be difficult for the defendant to contest these damages. However, claims for pain and suffering compensation are often more contentious.
If a defendant contests the amount of damages sought by the plaintiff, or if a defendant denies their liability and refuses to settle the case, the claim will proceed to litigation. However, the litigation process is time-consuming, costly, and stressful for everyone involved. This can potentially require months of intense courtroom proceedings, and the outcome will hinge on the discretion of the judge overseeing the case.
Leaving the outcome of a personal injury case in the hands of a judge can be risky for both the plaintiff and the defendant. For example, the defendant may assume that the judge will take their side, absolving them of liability for the plaintiff's damages or minimizing the amount they owe, only to face a ruling that exceeds what the plaintiff sought in the settlement. Alternatively, the plaintiff may believe their case to be compelling and their claimed damages reasonable, only for the judge to interpret the facts differently from what they anticipated.
It is typically best for all parties involved in a car accident case to avoid litigation as much as the situation allows. However, if you must take a car accident case to court, Stevenson & Murray are not afraid to represent you throughout the litigation process.
What to Expect From Your Houston Auto Accident Attorneys?
When you choose Stevenson & Murray to represent you in your recovery efforts following a car accident, you can expect personalized attention from your legal team through every stage of your case. Our team will carefully review the details of your recent accident, help you calculate your damages, and assist you in securing the evidence you will need to prove liability for those damages.
In every car accident case that we accept, our goal is to help our client maximize their total recovery as much as Texas state law allows. We have substantial experience dealing with Houston-area insurance providers and will help to ensure a fair settlement of your car accident claim. When you have grounds for further legal action, we'll assist you in compiling your civil case as efficiently as possible and handle all your procedural requirements with the court.
After helping you resolve any insurance-related issues that arise following your car accident, we will guide you through the settlement negotiation process if settlement is possible. Then, if necessary, our team will prepare you for litigation and let you know what you can expect during the forthcoming case proceedings.
Contact the Houston Car Accident Lawyers at Stevenson & Murray
Stevenson & Murray has successfully handled numerous cases involving car accidents. To learn more about your rights and legal options, call our Houston car accident lawyers at (713) 622-3223. You may also contact us online. We offer free initial consultations.