When an automobile accident occurs, the scene can be chaotic. Depending on the damages and injuries sustained, it may be hard to determine the exact causes of the accident. This is especially true with accidents occurring on multi-lane roads and highways where vehicles often change lanes at a rapid pace. While most people believe all auto accidents are the same, a number of different factors come into play when determining fault in a lane-changing accident. If you've been injured due to another driver's carelessness while changing lanes, turn to the experienced lawyers at Stevenson & Murray.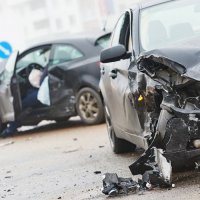 The Elements of Lane-Changing Liability
When attempting to prove auto accident liability, it usually comes down to negligence or the driver violating a motor vehicle statute. If negligence is being claimed, our team at Stevenson & Murray will look at several important elements, including duty, breach, causation and damages. For example, if the other driver owed you the responsibility to be a careful driver and failed to live up to that responsibility by changing lanes recklessly or without looking, these elements of negligence would be satisfied.
Along with this, if you were injured because of the driver's negligence and can prove damages through medical records, medical bills and lost wages, negligence can also be a viable claim. Therefore, when you've been involved in a lane-changing accident, let us here at Stevenson and Murray examine your auto accident liability case to see if negligence will be the basis for your claim.
How to Prove Lane-Changing Liability
Even when negligence seems obvious in an accident, proving it can still be somewhat difficult. To have a better chance of doing so, it's important to take photos of the accident scene, speak to eyewitnesses and obtain contact information, and to obtain any police reports regarding the accident. However, even with all this, remember that you may need to prove the accident was caused by no fault of your own, such as if you swerved or were exceeding the speed limit.
Let Us Help You Win Your Case
Even though auto accident liability cases can be complex, the good firm-overview/news is that when you work with experienced and knowledgeable personal injury attorneys such as the lawyers at Stevenson & Murray, you can be assured of having attorneys who care about you and will do everything possible to help you receive the financial compensation you need and deserve.